Beverage Formulation – FAQ
Eric Satterfield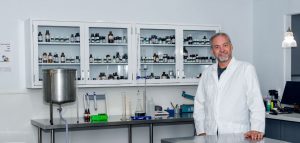 Beverage Formulation – FAQ
You have an awesome idea for a new drink. You've created it multiple times for your friends and family. But now you're wondering, how do I take my drink recipe to be commercially produced? You will want to have your drink recipe developed into a beverage formulation (commercial formulation). What is a beverage formulation, you may ask. We're happy you did. Here's our Beverage Formulation – FAQ 
What Is Beverage Formulation?
A beverage formula (commercial formulation) takes a drink recipe that makes up to ten gallons and develops a scaled up recipe that enables up to 1,000 gallons of the beverage to be made.
Who Develops A Beverage Formulation? 
A beverage formulation specialist or food chemist develops the drink formulation using commercially viable ingredients and techniques to make the formula scalable.
Why Do You Need A Beverage Formulation?
There are a lot of reasons that you would want a commercial beverage formulation. Today, we will focus on the Top 5 reasons you need a commercial beverage formulation. Read More >>
What Is The Process?
Concept – Your big drink idea is not just about the drink itself, but also what your vision is for your beverage in the marketplace. Your idea is fully protected with a signed Non-Disclosure Agreement (NDA).

Create – Food and beverage chemist develops samples for you to taste and provide your feedback. We'll repeat this until we get your drink exactly how you want it.

Commercialize – Your drink formula has been developed exactly to your liking! Now it's time to prepare your drink for production.
What Types Of Formulations Are There? 
Dairy, Soy & Other: Shakes, dairy smoothies and protein beverages
Non-Alcoholic: Functional, energy drinks, teas, coffee, and flavor shots
Alcoholic: Cocktails, mixers, beer, ciders, spirits, malt based, and sugar based
Special Certifications: Vegan, Organic, Non-GMO, etc
Soft Drink and Carbonates: Colas and fruit flavors, and herbal beverages
What About The Confidentiality Of My Drink Idea? 
Your food and beverage intellectual property needs to be aggressively protected. We pride ourselves on providing clients all rights to the intellectual property of our work for each and every project, from small to large. You will have peace of mind knowing that all necessary documentation and procedures highly protected.
How Much Does It Cost To Develop A Beverage Formulation?
The answer is, it depends. We'll start from your drink idea and get a great understanding of what is needed to produce your beverage to your liking. We can give you a quote for developing your beverage once we know more about your idea. Contact our Food & Beverages experts. Get Info.
Who Owns The Commercial Formulation?
The commercial formulation is all yours. Msat Consulting does not retain any legal interest in the intellectual property of our clients.
How Do You Get Started? 
You can get started by contacting us here.
Want To Know What Some Of The Top Trending Beverage Formulations Are?
Find out what Food & Beverage Insider have to say, here.